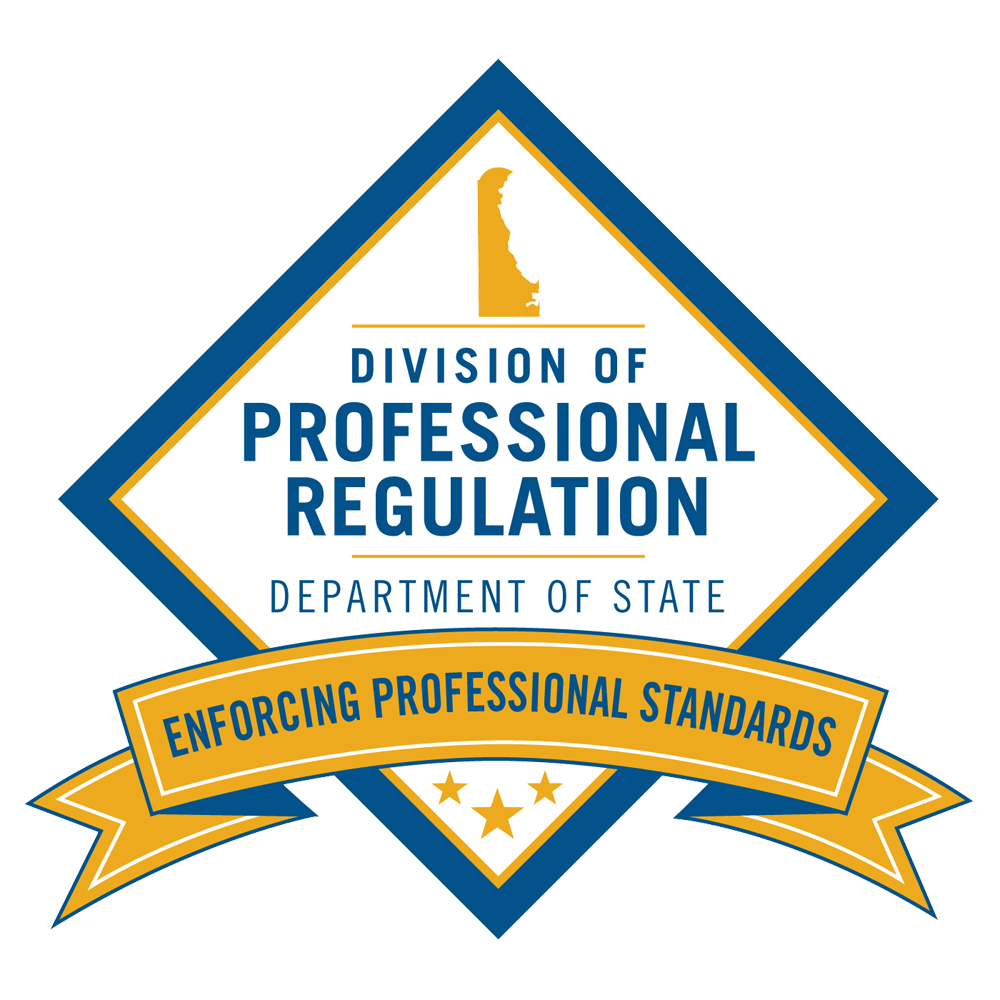 The primary objective of the Delaware Board of Dentistry and Dental Hygiene is to protect the general public from unsafe and unprofessional practices. The Board must also maintain standards of professional competence and service delivery. To meet these objectives, the Board
develops standards for professional competency
promulgates rules and regulations
adjudicates complaints against professionals and, when necessary, imposes disciplinary sanctions.
The Board issues licenses to dentists, dentist academics, dental hygienists and dental residents. The Board also issues three types of permits to dentists and dentist academics who administer anesthesia.
The Board of Dental Examiners of Delaware was established to ensure that every dentist and dental hygienist practicing in this state meets minimum requirements for safe practice. The practice of these professions is a privilege granted by the State. The Board of Dental Examiners is responsible for licensure, monitoring and ensuring the safe practice of dentists and dental hygienists in their service to the people of Delaware.
The Delaware Board Of Dental Examiners oversees licensed individuals who provide dental services within the state. You can contact the board if you have questions or need to renew your Delaware dentist license. The state dental board also accepts complaints against licensed and unlicensed individuals, investigates allegations, and takes disciplinary actions for violations of law. The goal of the Delaware board of dentistry is to protect the oral health, safety and welfare of citizens.
We suggest to check out the state dental board website as they may now offer online services such as filing a complaint, to see if a licensee needs to renew a license or make a name or address change, to see if an applicant is seeking a permit or license or if a consumer is trying to find out information about an Delaware licensed dentist. You can visit their site online.
Board Of Dentistry Office Location
Delaware Board Of Dental Examiners
Delaware State Board Of Dentistry And Dental Hygiene
861 Silver Lake Blvd. Cannon Building Suite 203
Dover, Delaware 19904
Board Of Dentistry Phone Number
302-744-4500
302-739-2711 FAX
Board Of Dentistry Email Address
You can email the state board at customerservice.dpr@state.de.us
| | |
| --- | --- |
| | Need information about the |
FIND EACH STATE'S DENTAL PRACTICE ACT
FIND EACH STATE'S BOARD CONTACT
This website is not associated with any government, public or private agencies or services referenced and is wholly dependent upon Google advertising clicks and Amazon book sales commissions.
Hits: 24